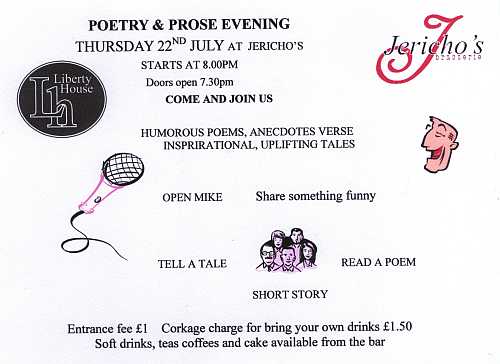 An entertaining night out in Launceston on Thursday 22nd July.
If you would like a cheap night out and have a good laugh this could be the perfect chance to indulge in some funny stories, uplifting tales or just some cracking jokes. Everyone is invited to share something, be it poetry, a favourite passage from a book or perhaps to tell an inspirational tale. Do you want to spread a message? This is a perfect opportunity for you.
If you would like to take part, simply turn up and take a turn at the mike. Have a think about something you would like to say and have a go. Recite it, read it or just make it up as you go
Coffee, tea, soft drinks and a choice of Mels delicious home made sweet and sticky cakes will be available from behind the bar. You are invited to bring your own alcohol if you wish.
Jerichos is found in Liberty House which is the old Liberal Club of Launceston. It is between the Job Centre and the Bell Inn in Northgate Street. Opposite the Central Methodist Chapel.