The Pine Processionary Caterpillar can kill your dog. Beware!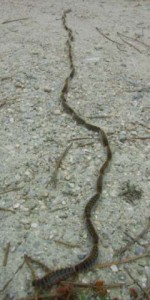 The Pine Processionary Caterpillar can also cause you or other people, severe medical problems. In the comments below you will see that several people have suffered quite seriously from the effects of coming into contact with the caterpillar, or at least the hairs of the animal.
Even if you are not a dog owner, but live in or like to travel around Europe I think it could be useful to know something about the caterpillar and what can happen if you get the hairs on your hands, face or body.
I first encountered killer caterpillars in the north of Portugal. I was walking with my dog Tess on a dirt track that ran along the side of a lake. As we walked, I was enjoying the peacefulness of the scenery and Tess was wandering about sniffing and exploring. Catching the scent of previous visitors here and there. Nose down and her tail wagging. I had a faint hope of spotting an eagle, or if I was very lucky a wolf. This was a remote place and the terrain was wild and rugged. If I were a wolf, or an eagle, I would like to live in these rocky mountains too. Lots of eucalyptus, pine, cork oaks and many other varieties of trees and plant life. We zigzagged our separate ways to and fro, from one side of the track to the other. Both happy for the freedom of the countryside. A photo of a flower here, the view from here, an insect there, another picture of Tess and here I am in a dog walking photographers heaven. Love it, love it, love it.
Looking ahead on the track I saw what I thought was a bootlace or a piece of string and slightly to the left a shorter one. It just seemed a bit odd somehow. When I looked a little closer I was quite astonished. The two bits of string were moving! To my amusement I realized that I was watching a string of caterpillars nose to tail, moving in procession across the track. About thirty five of them in one line, and about twenty in the other. I had never seen anything like it. They looked quite pretty and harmless enough, just like most caterpillars do. Always ready with a camera, I set about taking photos. They were obviously heading across the track and in a reasonably straight line.
Now Tess was wandering around and came over to investigate. I didn't want her to disturb or injure them in any way, so I asked her to stay back. Which she did. And I was able to take photos unhindered. Kneeling down and scrabbling around on all fours, I took some pictures. I looked up to see a car coming slowly my way. Bumping in and out of the pot holes, it gradually approached. I called Tess over and she sat back, out of the way. Tess was a beautiful Labrador and a wonderful companion at home or away. She was very easy to train. Labradors in my experience usually are.
Not speaking Portuguese at all, I tried pointing to the caterpillars and then to direct the driver around them. Sometimes I get caught between wanting to jump in to help avoid what I see as imminent disaster and interfering. I dismissed the idea of scooping them up with my hands as being even more silly, judging by the puzzled look on his face. He didn't seem to have a clue about what I was trying to say, and promptly drove on. He was probably thinking that this Englishman is crazy. From inside the car he would not have seen them perhaps.
Meanwhile Tess sat and looked on patiently.
Now there were several bits of string, and a lot of untangling to do. After a while, some took charge and they regrouped. After some navigational errors, the fit and able continued, only to be crushed by yet another car. I was getting a bit upset. It was all getting very messy. I watched the caterpillars for some time and then decided to continue with the walk.
Several months after seeing the strange sight, I was warned by some German friends about a small dangerous animal that I should be very careful of. Especially with my dog. They tried to describe the beast to me but I failed to understand the nature of this animal. That it was small, lived in trees and dangerous was as much as I could understand.
My friends seemed to make quite an important issue of it, telling tales of inquisitive dogs losing their tongues, and dying because of an allergic reaction to poison, which is found on the hairs of this creature. A few days later they found the word that cleared up the mystery. Caterpillar. Naturally I started to ask other people about them and found out how lucky I was that Tess didn't go near them. It could have been a very nasty situation and I don't know how things would have turned out if Tess had not been a well behaved and obedient dog. And what if I had scooped them up with my hands? Also, other friends have told me to wear a hat under pine trees. and not to get to close, just because I want photos. My friend said he had some dust come down from a nest. He ran and stood under a shower for ages. Apparently the Histamine can cause severe itching, nasty rashes, blisters, breathing problems and could cause anaphylactic shock.
The Processionary Caterpillar is the larva of a silk moth. Thaumetopoeiae. They live in pine trees from which they eat the needles. They live in whitish colour sacks or bags which can be clearly seen on the branches. Sometimes twenty or thirty on a tree. In the comments at the bottom of the page you will see that they have been found in Portugal, Spain, France, Italy, Turkey and probably in many other countries including possibly the U.K.
I took several photos of caterpillar nests on the 29th January 2016 as I was driving up to the paragliding take off point on the hill above the town of Montellano which is in Andalucia, Southern Spain. There were a few nests but not heavily infested.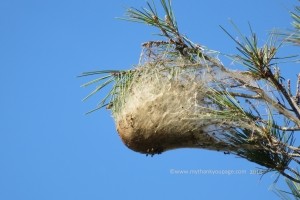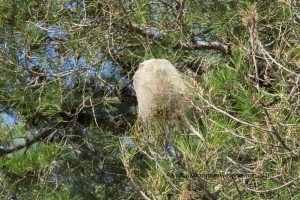 The Pine processionary caterpillars can eventually kill the tree they are living in. Because the caterpillars are nocturnal they will come out of thier nests during the night to feed on the pine needles. If there are too many nests in one tree it could be stripped bare of foliage and die. Any type of  pine tree makes a good home for the caterpillars.
The caterpillars feed on the needles of the pine tree and when they are ready they leave the nest by playing follow the leader, One takes the lead and the others follow. They travel along the branch and down the trunk to the ground. Nose to tail, Bumper to bumper.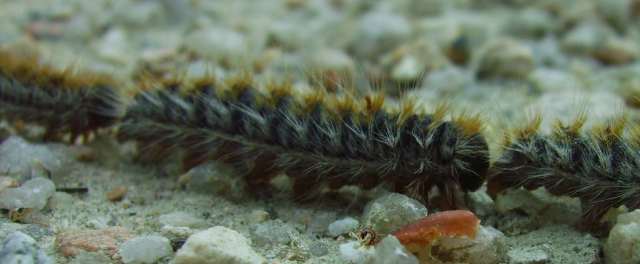 The next stage is to find some some soil which is soft enough to burrow into. Once deep into the soil they change into a chrysalis and when conditions are right will emerge as a moth. Then the cycle repeats itself. The female Pine Processionary moth finds a mate. She then finds a pine tree and lays her eggs high up on the branch tips which hatch out into young caterpillars. The young caterpillars then build the nest also called 'silk tents' in which to live until they are mature and ready to leave, either to find another tree for more food, or to go underground to turn into a chrysalis and then a moth.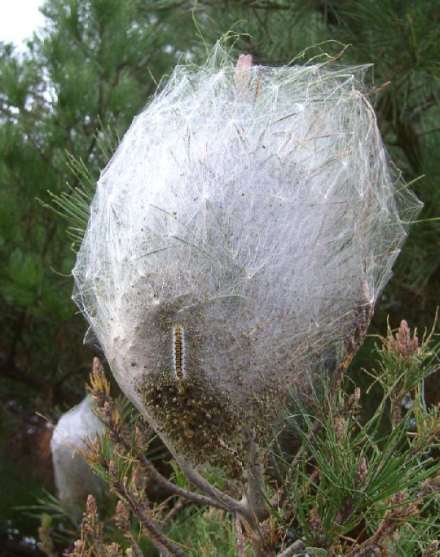 Best advice.
Stay away from any pine trees with the nests of  the Pine Processionary Caterpillar
Whenever out in the countryside, especially near pine trees, keep a look out. The nests are easy to see. Perhaps put your dog on a lead. until you are well clear of them.
If you suspect your dog has come into contact with the caterpillars, the signs can be obvious within five minutes.
Some of the signs that an animal, be it a pet dog or cat, are suffering from an allergic reaction to the Pine Processionary Caterpillar poison are, drooling or salivating, vomiting, drowsy or listless, swelling of the lips, tongue, face and general head area, severe irritation of the feet and or face and maybe some not so obvious ones.
If you see any of these signs GET TO THE VET. Many of the people in the comments below feel that getting to the vets quickly is what saved the lives of their pet animals.
Your dog may pick up the hairs on its paws and lick them because of an irritation. This will bring the hairs into contact with the mouth and nose. The lips, tongue, and nose can  swell up to a huge size until the whole head is swollen. The tongue may become so large and swollen that partial or full amputation may be necessary. You might also notice a very bad smell. Because of the swelling the air passages can also become blocked leading to suffocation. Get to the vets straight away and if available your dog should be given Apis pills immediately.
If needed the vet will also give a cortisone injection.
If you can find a homoeopathy shop or vet near you, get some APIS pills, and keep them for an emergency such as this. They will also work with wasp stings.
Tip. Keep them in a dry airtight container. They will dissolve very easily into nothing if they get the slightest bit damp.
The correct way is to give the pills and then visit the vets. But don't waste time looking for shops that might or might not have it. If you don't know where to get the apis head to the nearest vet. Your dogs life is in danger.  Note not all vets will keep Apis but they will have Cortisone. Another good reason for keeping some Apis pills yourself in case of such an emergency.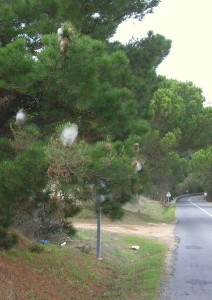 Protect your self when working near pine trees especially if you can see the nest. The wearing of protection such as goggles, gloves and a dust mask is advisable. A puff of wind and a face full of dust is not good news.
This tree is beside the road between Odemira and Sao Luis in the Alentejo, Southern Portugal. The nests look like candy floss and are within easy reach of someone standing on the ground. This was the first time I saw a tree with caterpillar nests.
Now I fully understood what my German friends were talking about.
Parents with children should also be especially vigilant near pine trees or any area with a mixture of trees
Update 8th February 2016
Video of caterpillars leaving a pine tree to start the next stage underground.
I was kindly invited to take a look at a pine tree in the Algarve which was heavily infested with caterpillars. I went along to take some photos and was lucky enough to video record some of the caterpillars coming down the trunk of the tree. Chris the owner of the property had been dealing with large numbers of caterpillars for the last couple of weeks. The pet dog had been affected very seriously and nearly died. The story with a happy ending is in the comments below.
You will also see in the video that a wide band of special tape had been put around the tree. I will say that it is virtually impossible to get this type of trap to work effectively for a few reasons as follows.
The bark is very knobbly for want of a better word and would be impossible to make a tight fit against the tree. The caterpillars will simply circle the trunk of the tree until they find a place to pass through. The knobbles would first need to be removed creating a much smoother surface.
If the bark is made smooth and the tape is applied tightly I doubt that any tree will be a perfect circular shape so there will always be gaps to allow caterpillars to pass under. Smoothing the bark, wrapping the tape around and then filling the gaps with grease might be effective, but then if you have the grease you do not need the tape.
I suspect the tape will also become loose or start to become saggy due to exposure to the wind, rain and sunshine.
If anyone has had any success with this type of solution please tell us about it.
We chatted for quite a while and then looked around the side of the house where there was another pine tree. Sure enough, on the path but under some leaves was another group of caterpillars. All the caterpillars where scooped up and disposed of by fossalization
My friend Peter and his wife have Pine trees on their property and each year the trees have caterpillar nests in them. They also have two dogs and take the risk of injury or sickness through contact with the caterpillar hairs very seriously. I asked Peter if I could film him when he was preparing the tree for caterpillar season and he kindly agreed. Thank you Peter.
In this video Peter demonstrates how he cleans the knobbly bark from a Pine tree and how to apply a band of grease around the trunk to catch the caterpillars. Please also note that he is wearing protective clothing and that he has anti histamine close by if needed. The grease he is using can be bought in most hardware shops, super markets, local garages and so on. The grease is sold in a variety of sizes of tins, tubs and cartridges and commonly used as a mechanical lubricant for vehicles and machinery. A video coming soon will prove this method does work.
I hope this article will help to prevent serious injury or even death to any dogs, cats, all pet animals and even people.
Please read all the comments below for more information, especially the story from Chris Yates and the pet dogs near death experience. It outlines the importance of not waiting to see what happens.
Thank you very much to Caroline, Tony, Gaynor, H, Mrs Dale Fraser, Fernanda, Heather, Kathy, Sarah, Tony, Sue, Alan, Jonzjob, Lesley, Jane, Chris, Issia, Jean, Lizzie, Syd, Sally, Sheila, Dario, Ian, Lyn, Chris, Iris, Amanda, Marie and Jenny for sharing you stories, tips and help in the comments below.
If you found this interesting and have something you would like to add please leave a comment in the box below.If you would like to send a photo or video of your own to put on this page that would be fantastic.
Thank you for reading.
Selwyn.
See also
Megarian Banded Centipede
Veterinary Clinic in the Algarve