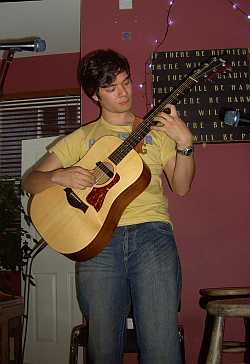 James Corachea
(contemporary acoustic guitar)
On Thursday evening June 24th James Corachea from Trebarwith returns to play at the Acoustic Cafe in Launceston's Liberty House.
A month ago James amazed us all with his skillful handling of  acoustic guitar. Although a relative newbie to guitar, James  plays exceptionally well and is totally inspirational.
His style of playing has to be seen and heard. James certainly deserves our attention.
Welcome back James and good luck

Alfred Eccles
If you have read about the event on Thursday 27th of May you will recognise Alfie Eccles who did an excellent job on the mixing desk.
On Thursday Alfie  will  be playing guitar and singing his own style of alternative acousic songs for us.
Also performing on Thursday;
John Greene (Country/Jazz)
Six-Is-Out
(original take on some up to date covers)
Chloe Arscott and Alex Wilson (soulful pop/covers)
Becca Langsford and Vince Lee (Blues)
Once again Jules has done a great job of lining up some impressive acts to entertain us at the Acoustic Cafe. Thank you very much to Jules
Wishing everyone another very enjoyable and memorable night out in Launceston
You can read about the event which took place at the Acoustic Cafe on May 27th here.