Launceston's  Acoustic Cafe on 29th July was a roaring success.  
Isaac Haynes, Hannah Dawe and Marcus Cole
The first group to kick off the evening were the ever popular Hannah Dawe on vocals and keyboard, Marcus Cole vocals and guitar and Issac Haynes on Congas and vocals.  These three friends from Launceston college gave a great performance as they always do.   For this evening  they played  a couple of original songs, one called "Hit and Run" to which Hannah wrote the lyrics and Marcus and Issac added the music, another was  Hannah's song called "Miss Lonely"  
Hannah said she loves to write her own material so I am hoping to hear some more new songs in the near future. She  also has ambitions reguarding her future within the music scene and I wish her the best of luck with everything she does.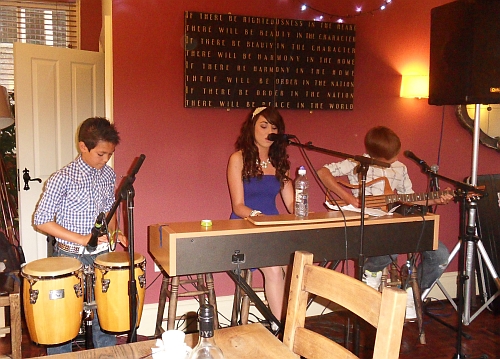 The set also included  their cover versions of "California", "Shine", "Only exception" and the one that really surprised us was their version of  "If you got the money". This was a brilliant performance that got the audience clapping and cheering and raised the atmosphere by several degrees.   
Hannah, Marcus and Issac are always very enthusiastic about playing at the Acoustic Cafe and one of the questions they always ask is "Can we play at the next one?"  Well you need to speak to Jamie Murphy about that but I am pretty sure it won't be long before we see you all again. Well done to all of you 
Left Nut Jack and the Square Needles
Left Nut Jack and the Square Needles describe themselves as a  five piece alternative instrumental band.  
Now this was something completely different and quite amazing.  The group was made up of five friends from Launceston college who claim to be unable to sing so prefer to stick with playing instruments. The members of the group are Jack Grime on trumpet, Will Samuels on saxophone, Phil Leslie on bass, Duncan Whale on guitar and Olly Simons on cajon drum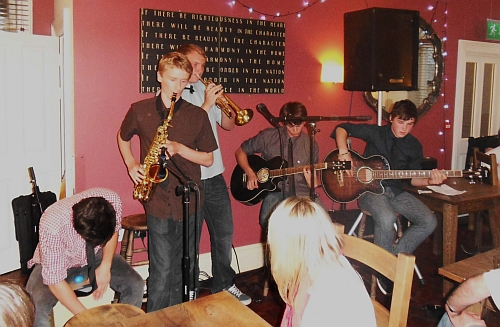 They played one original song called "Easy" and cover versions of "feeling good" (Michael Buble), "By the way" (Red Hot Chilli Pepers), "She said" (Plan B) and "I feel Good"  Left Nut Jack and the Needles are obviously a popular group of lads judging by the crowd of enthusiastic followers that accompanied them to Jericho's  
When chatting with Jack on Face book after the event he asked me  "Who do I speak to about doing next months one at the cafe? and then said "I hope they will have us again as it was so good on Thursday night.  We loved it."
Going by the huge round of applause as they finished their set I think you will definitely be back. Well done guys. 
Left Nut Jack and The Needles are keen to play their music and would love to entertain you. Find them on Facebook
Hannah and the Madding Crowd
Hannah and The Madding Crowd are from the Okehampton area and have been playing at festivals, concerts and gigs for a number of years. They have been the support band for many well known acts including  Al Stewart, Kathryn Tickell,  Julie Felix, Roy Harper and Roy Wood.
Graham describes their style of music as indie-folk and acoustic-pop. 
Graham Crocker plays lead guitar, mandolin, slide guitar and vocals, he is also Hannah's Dad and  Phil's Father in Law. Hannah Power sings the lead vocals and is  a songwriter. She is also Graham's daughter and Phil's wife. Phil Power is the rhythm guitarist, sings vocals and is a songwriter.  Phil is also Hannah's husband and Graham's Son in Law.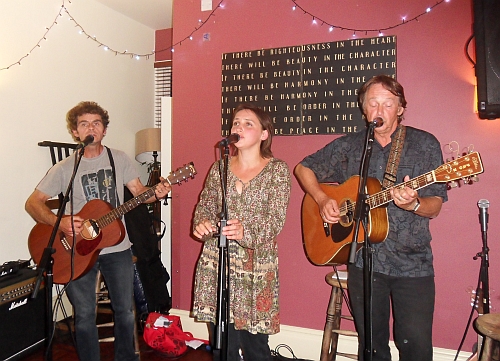 On this occasion they played three of their own songs called "Turn to me", "From the Sun" and "Free Spirit". They also performed their own cover versions of  "Closer to Fine" (Indigo Girls, "Lucy in the Sky" (Beatles), (Which got people singing along with great gusto), Big Yellow Taxi (Joni Mitchell), Attention (The Waifs) and 15 Years (The Levellers). 
This was a brilliant selection of  songs and was really appreciated by the audience. I am sure there would have been a lot of dancing and jigging about given a bit of space in the packed out room. There was certainly a lot of foot tapping, and head nodding  going on. This was an excellent performance you gave us and very much enjoyed by all. Thanks  for coming along.
Robbie Ceredig-evans
Robbie is a talented keyboard player and singer from the Penzance area.
Robbie is also a recent new member of the popular local band called "Six is Out"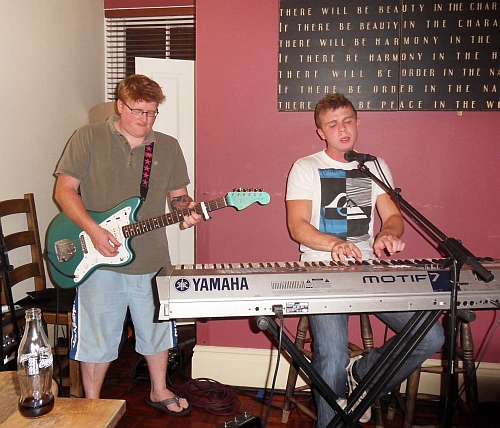 Robbie has been studying for his music degree at Truro College where he met Jamie and the other members of Six is Out. They were impressed with his musical abilities and was invited to join the group
Robbie performed solo on his cover versions of  "Ain't no sunshine", "High and dry"and "Easy", and then Jamie joined in on guitar for "Human nature", Don't stop the music" and "Free falling"
This was an impressive act by Robbie and Jamie and delighted all of the people in the room. Well done to both of you.
You can see more pictures and read more about Six is Out here
Robin Vizard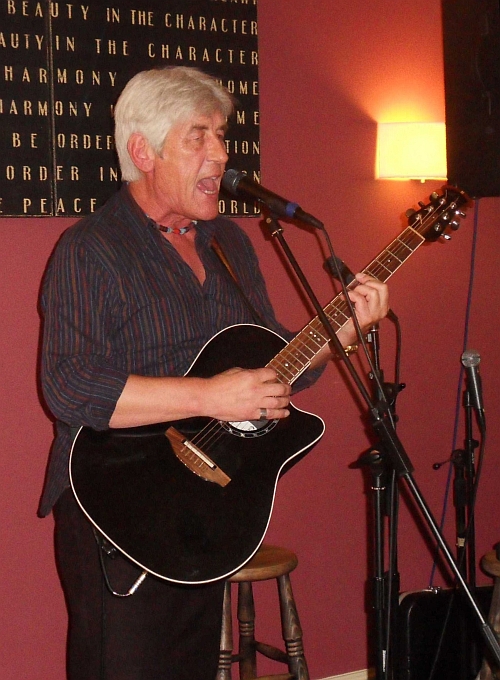 Robin Vizard is a singer/songwriter and musician from St Agnes in Cornwall and a bit of a legend down that neck of the woods. Robin appeared on his own this evening but is sometimes accompanied by other musicians performing as  The Robin Vizard Band.
Robin's songs are a mixture of  folky pop and based on a personal view of the irony of everyday life and written with an underlying twist of humour that makes one wonder about ordinary daily events and raises the question, What is the sense of it all?
His songs include titles such as "Easy Come, Easy Go",  "Sadie's a Lady",  "Falling Apart at the Seams", "A Million Ways", "Down All the Days",  "Captain Zero", "Slow Motion", "Doing My Head In", "Bipolar Bear", "Stornaway" and "Puma in the Shed"
Thanks for sharing you unique style of  music with us Robin. It was great to meet you
A brief roundup of the Acoustic Cafe in Liberty House Launceston on 29th July 2010
 This event was extremely well supported by many talented artists covering a wide range of musical styles to suit the varying taste's of the large crowd of people who came to listen.
Mel and voluntary staff served up huge amounts of  Lamb Moussaka and Vegetarian Goulash main course and a choice of Banoffee Pie or Cheese Cake for dessert.
The people who sat upstairs were able to watch and listen to the the acts as they played, via the video camera link which projected  live video feed onto a large screen.  Many people commented on this feature and they all thought it was a brilliant idea. I have to agree.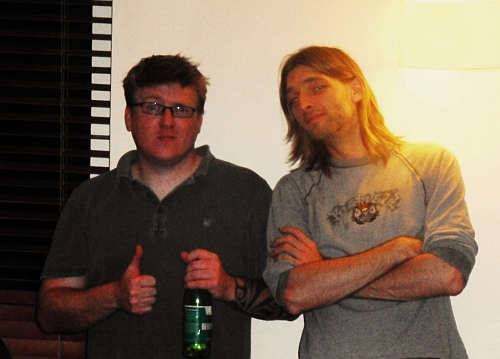 Jamie Murphy did a brilliant job of organising the event and Mike Osborne excelled as usual on the mixing desk. The sound quality upstairs and downstairs was spot on.
The Acoustic Cafe, held at Jericho's on the last Thursday of every month.
This was another wonderful evening of quality entertainment. Thanks to everybody who helped to make this the very successful event  it was.
And a big thank you again to everyone who kindly gave me permission to take photographs and write about it on this website
The next Acoustic Cafe at Jerichos in Launceston is on the Thursday 26th August.
Contact Launceston's Acoustic Cafe on Facebook here
Read more about Liberty House, Jerichos Brasserie and The Acoustic Cafe in Launceston 
Please feel free to leave a comment in the comments box.
Selwyn