Fly in a microlight with
The Moorland Flying Cub Davidstow.
In this picture I am flying as a passenger with Steve as pilot.
The microlight in the background was piloted by Ian with my friend Amelia who was a very very happy passenger.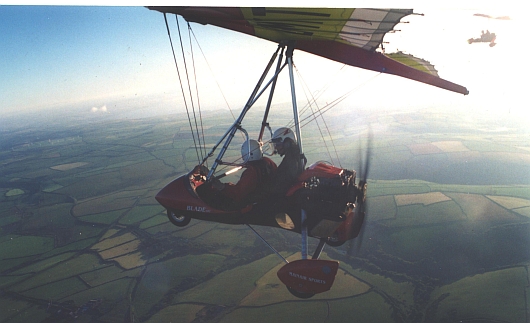 I had been having a few microlight flying lessons at the Moorland flying club on Davidstow airfield on Bodmin moor in Cornwall and one day I asked Amelia if she would like to have a flight. She thought we were all crazy but said yes.
I took a video camera with me and after putting on our helmets, climbing in and fastening our belts, off we went. Out onto the runway and up into the sky.
I was busy filming out over the side of the microlight and loving the experience. It was nice just to enjoy the flight and not worry about concentrating on the learning aspects of controling the wing, airspeed and so on.
Ian pointed to the only cloud in the sky, a little fluffy one, and both pilots headed over to play. After a little dog fight around the cloud we headed over to Tintagel and along the coast to Crackington Haven where we dropped a little lower so that Amelia could see her house which was in the lovely valley at the end of Lovers Lane.
Then we headed back to Davidstow and it was time to come back to earth.
I kept the video rolling as we landed safely on the ground, came to a stop and all of us got out. Amelia was smiling and suffering bursts of uncontrollable laughter,
The flight was brilliant but better still were the expressions of joy and laughter of my friend.
I highly recommend taking an introductory flight in a microlight even if it is only for a once in a lifetime experience. GO FOR IT
Thank you very much to Ian and Steve and everyone at the Moorland Flying Club on Davidstow airfield in Cornwall.
Amazing.
Selwyn