Rita Hosking on UK Tour
Visits no8 Cafe in Launceston
Rita Hosking, a powerful singer/song writer and her talented  husband Sean, performed to another packed house at No8 cafe in Launceston on Thursday 22nd July.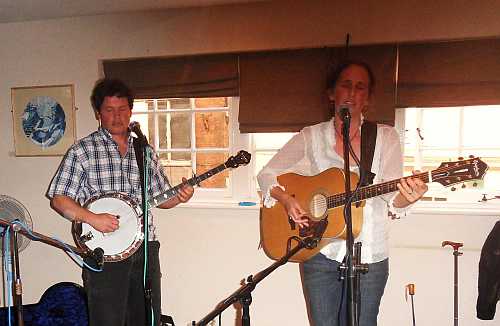 Rita and Sean from Davis in North California share a passion for playing Americana, folk, country and bluegrass music. Rita Hosking's first taste of singing began as a child at the local church and her first musical instrument was a good old fashioned washboard.
A lot has happened since then and three years ago Rita gave up her job as school teacher to take up her musical career full time. She has won several awards and her albums are continually receiving much attention. I think you made a good choice Rita.
Rita has played at many festivals and concerts in America and is currently on tour in the UK.
This was Rita's first visit to the UK and it was a special time for her down here in Cornwall because Rita's great grandfather was a Cornish miner who travelled to America along with many others a long time ago to try out their mining skills in California. These Cornish immigrants to America became known as Cousin Jacks. Cousin Jack is also the name given to Rita's support band.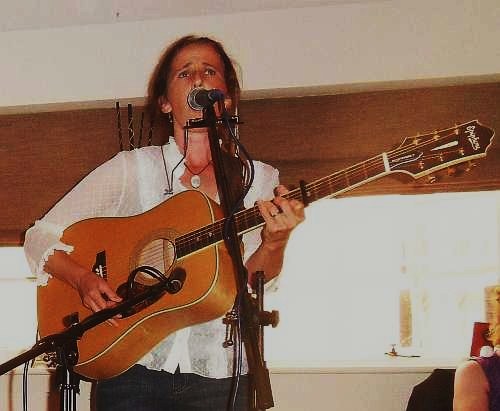 Rita told a brief story before beginning each song which gave meaning and understanding to the lyrics. These consisted of the memories of her childhood days and the simple rural life as it was for her, growing up in Montgomery Creek in the mountains of Shasta County in North California. Inhabitants of Montgomery Creek were known as "Monkey Crickers" She told us.
Her albums are like a diary of events telling a tale of forest fires, the loss of family, friends, the struggle for survival, a near death experience, pain and fear, all turned into song, and sung with such passion and feeling that I could almost see a tear  in her eyes as she sang.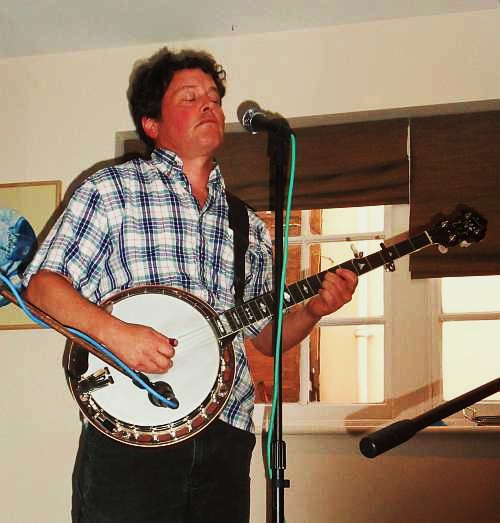 One of her songs "Cool Black Water" reflects on the fear of bad news when having a loved one working deep underground in the coal mines doing a very dangerous job to provide for the needs of the family.
"Are You Ready" came to her as a question of choice; Live or Die? In her mind, as she lay in a coma, her answer was no.
The song "Kitchen Table and Chairs" was born of discussion about  what should be saved in the event of the potentially devastating  forest fires which occurred in the area, encroaching on the family home.
For Rita all the feelings and emotions she has experienced throughout  her life carry the seeds of song which she is then able to develop and share in her own special way with people from all over the world.
Rita's influences are many but perhaps the greatest were the traditional songs sang by her grandparents to the family at christmas time, and inspired by the ordinary everyday lessons of life in a small town rural community.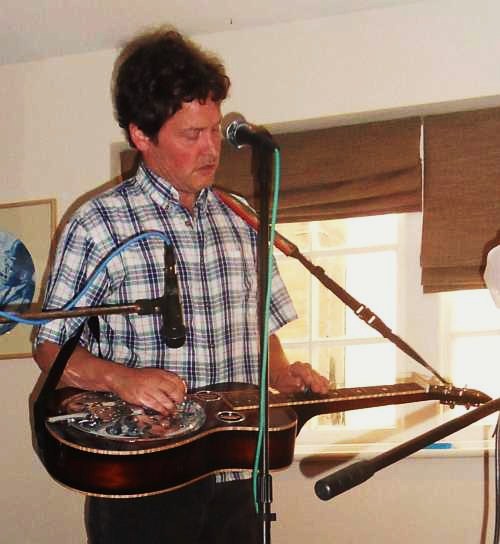 Rita's husband Sean Feder accompanied her with backing vocals, banjo and dobro. Sean also plays percussion and bass guitar, and is a member of the group "Country Jack". Sean kindly explained to me a little about the dobro which he played.A fascinating instrument with a wonderful sound in the hands of  someone like Sean.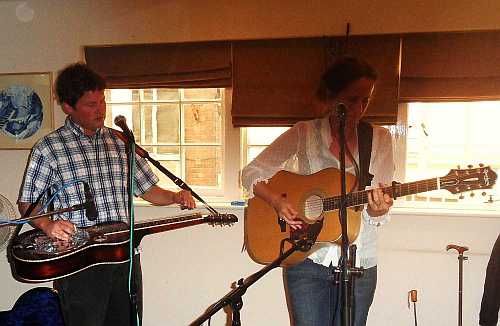 Thank you To Rita Hosking and Sean Feder for sharing your time, your stories, your talent and your love of homegrown country music.
I wish you all the very best as you continue on your musical journeys through life.
Special thanks again to
Colin Hill who certainly knows how to pick a crowd pulling act,
Adrian Harvey for providing the venue,
Graham Sleeman who did a great job again on the mixing desk
and all the people who gave me permission to photograph and do a write up about another great night of music at No8 Cafe in Launceston, Cornwall.
Well done and thanks for another great night out.
No8 Cafe and coffee shop is found in Westgate Street Launceston opposite the post office.
Telephone number -01566 777369
Read about Drew Nelson who also played at No8 Cafe
Selwyn.